Apr 15, 2021, 9:00pm EDT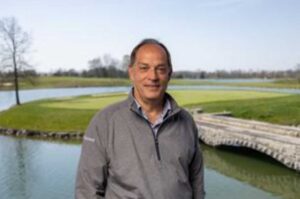 This story is a supplement to the Courier's 2021 lists of the most difficult public and private golf courses.
Jeff Osterfeld would like to tell you he's responsible for Golf Club at Stonelick Hills's banner year in 2020. But he's knows that's not quite the truth. All sports centered around outside activity saw a boost last year due to the novel coronavirus pandemic.
"We were busy as heck and we were lucky," Osterfeld said.
Golf Club at Stonelick Hills, located at 3155 Sherilyn Lane, is a semi-private course, with 20% of its play from members and the other 80% from non-members. The additional play, coupled with changes to accommodate Covid-19 restrictions, did make for some challenges.
Osterfeld said it was harder to find employees, and the course lost a lot of outings and all but one wedding. But he was able to make up the outings with additional public play.
Another challenge was providing enough golf carts for every player to have his or her own. Golf Club at Stonelick Hills typically has 66 carts. To have enough, Osterfeld rented an additional fleet, parking them in the lot all year.
Will 2021 see the same traffic as last year? Osterfeld has high hopes.
"So far it looks like it's going to be another great year," Osterfeld said.
Has the national interest in golf during the pandemic surprised you?
Yes and no. Yes, because most of what you read about is financial difficulty out there. People were really concerned about being able to feed their families. Here we are, a high-end public golf course and yet we're packed. Part of it is obviously related to the pandemic, as any kind of recreation that is predominantly outside prospered.
What is your favorite hole to play at your course?
It's not a hole you hear a lot, but for me it's the 11th hole. It's a slight dogleg left, par 4. It's innocuous. In my 16 years, I've played four or five different clubs off the tee. For me, that's the mark of a good hole. It's a balance of how much risk to take, the wind, do I dare hit the driver today or go with a hybrid 4-iron. You can make sense out of any of those choices.
Aside from your own, what is your favorite course to play?
The Golf Course at Great Waters (in Georgia) influenced me pretty heavily. I played there a lot in the '90s and early 2000s. We had a cabin down there. I loved everything about it. The dramatic holes on the lake. I still love playing it.
What's your morning routine like?
I was up at the crack of dawn from my 20s into my 50s, but the last five, six, seven, eight years, I've been an 11 p.m. to 7 a.m. guy. I like to get eight hours of sleep to the degree that I can. I have an office at home. We just recently moved out to Stonelick Township, so I spend time in the office. Then I have some physical therapy to do and a workout facility next to my office. Three to four days a week it's stretching and physical therapy, then a workout and then attack the day with emails, phone calls and off to one of the businesses I'm involved in by 9 or 10 every day.
Who do you turn to for business advice?
Until last year, my dad. He died late last year. He was such a pragmatist. I always got good information from him.
Why do you have the career you have?
I have really varied interests, but my first love and interest is Penn Station. (In addition to owning Golf Club at Stonelick Hills, Osterfeld is the founder, owner and CEO of Penn Station Inc.) I knew I just wanted to do something on my own. My dad and brothers were all self-employed. Food was something I stumbled across. I saw the Oxford Bagel & Deli with lines out the door at 1 in the morning and I said, "Heck, I can do that." I started Jeff's Bagel and Deli and the subs were outselling the bagels. I wanted to go out and start something on my own and grow it into something big. Penn Station did that for me. Now I'm in real estate and the golf business is a labor of love.
When do you get to play golf?
I'm in a nine-hole league on Thursday nights. It starts in a couple of weeks and runs through September. I might play one or two times a month, jump in with my son or a buddy.
Favorite restaurant?
Does that mean outside of Penn Station? Of late, since we have moved out to Stonelick Hills, we've fallen in love with the Governor in downtown Milford.
What food/drink is always stocked in the Osterfeld household?
For food, I have to say Stehlin's smoked goetta. For drink, it's Dewar's.
Jeff Osterfeld
Title:
Designer/owner, Golf Club at Stonelick Hills
Education:
Miami University
Career path:
Founder, owner and CEO of Penn Station Inc., a restaurant franchise. No previous experience as a golf course designer. Read a half-dozen books on the subject, then jumped in with both feet.
Age:
61
Resides:
Stonelick Township
Hometown:
Batavia
Family:
Wife, Sheri; four adult children, Rachel, Jake, Andrea and Corie
Tom Demeropolis
Senior Staff Reporter
Cincinnati Business Courier